Best Fitness Trackers for Strive App
What are you looking for in the Best Fitness Trackers?
There are so many fitness trackers out on the market these days after the original success of the Apple Watch, Garmin, and Polar. So the real question is what features are important to you and what your willing to pay for those features? In many cases most of the watches offer the standard steps tracking, distance tracking, your cadence, your heart rate, and basically logging your cardio workouts. Most of the smart wacthes these days offer this functionality with slightly different interfaces and at different price points. The most important thing is that these watches interface and integrate into Apple Health data. Apple Health on your iPhone will record your steps, miles, distance, heart rate, cadence, elevation, split miles, etc. To us at Strive, where it gets interesting and very useful is when we create fitness challenges amongst friends, family, coworkers, and colleages all over the world using that data.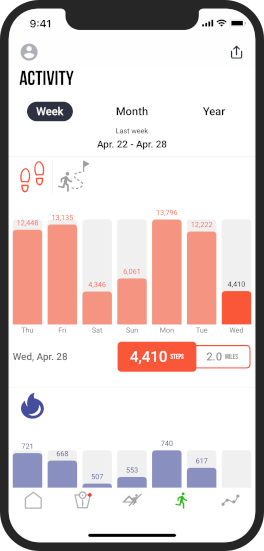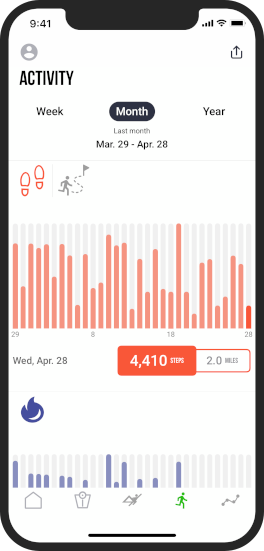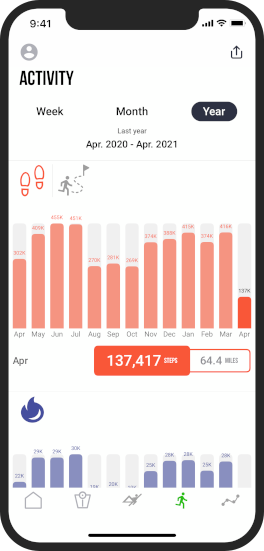 Would your friends be interested in Fitness Group Challenges?
Well you know your friends better than we do, but what we do know is that everyone likes to gamify everything. A little bit of healthy competition never hurt anyone because if we all compete, we all win. It's all about trying weather you win or lose is irrelevant. It's about challenging yourself to get up everyday and do your best. What gets us motivated to do our best? A challenge or competition from your closest peers that have a desire or challenge to Strive to be the best version of themselves. So go ahead and challenge your friends and see if they think they can run or walk more than you can. What if you ask the entire office? I'm sure plenty of people would think that they can be the best fitness athlete in the office. So let's find out!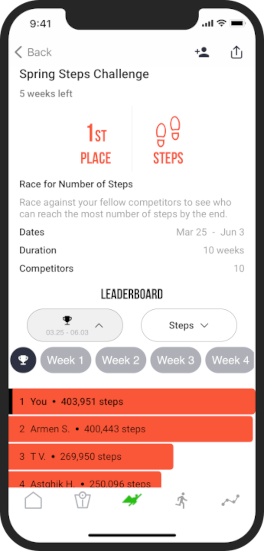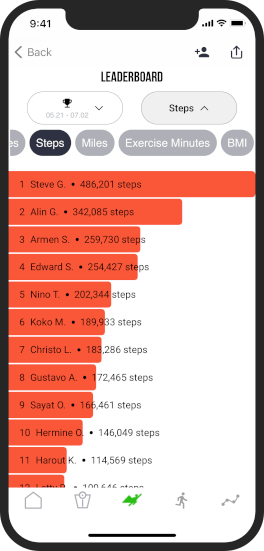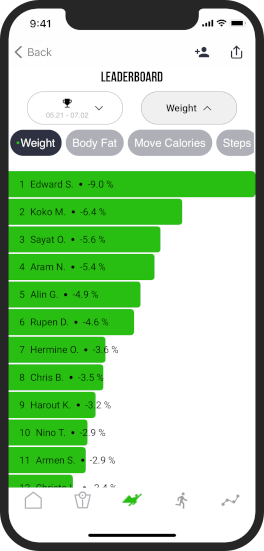 What are the Best Fitness Trackers App to keep you motivated?
The Strive Fitness Competition App of course! The value in Strive Competitions are the competitors. What makes Strive so powerful is that you are competing amongst people you know. We have dynamic leaderboards so you can see in real time who has the most steps, miles, move calories, exercise minutes, and if you are trying to lose weight we have weight, body fat percentage, and BMI tracking capabilities. You can see your physical activity by week, month, and year. If one of your friends is working harding than you are, then you can see that too. Your competitive nature will kick in and you will Strive to be better until you climb up on that leaderboard. You will get daily push notifications to keep you motivated and to stay on target with your health and fitness goals.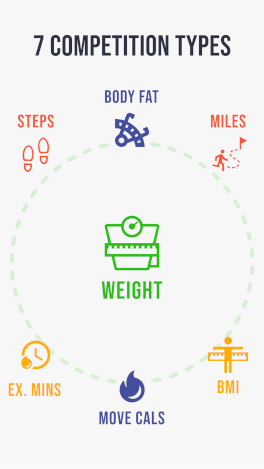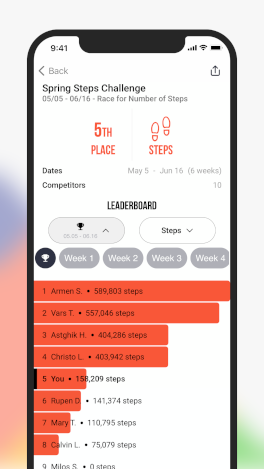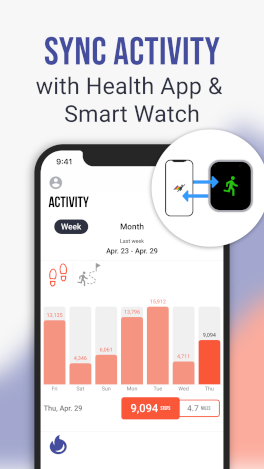 How much of a role does Accountability and a Support System play in reaching your Fitness Goals?
It's huge! If I told you that you need to run 100 miles in a month but there is no way for anyone else to know how far you got or if you ran at all. Would it matter to you? Some of us don't need external motivation, just running for our own health is sufficient. For others, we need that extra push and we like the vanity. We want other people to know, yes we ran 100 miles and I'm proud of my accomplishments. More than that it's the accountability of the day in and day out, our running partners will remind us that we need to go run 3 miles today. That support system is vital and it's a give and take. Some days you don't feel like waking up at 6am to go for a run, but your running partner will push you get up and hit the pavement. On another day, your partner will need that extra push you need to return the favor. Strive's biggest feature is the support system it provides to reach your health and fitness goals and Strive to be the best version of yourself.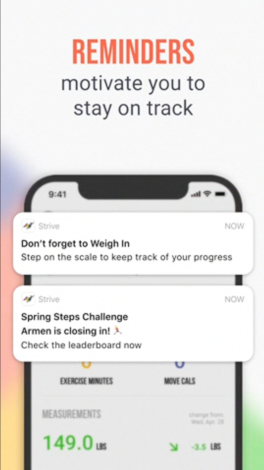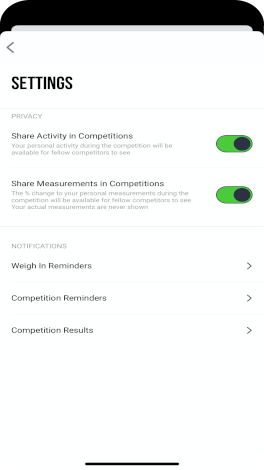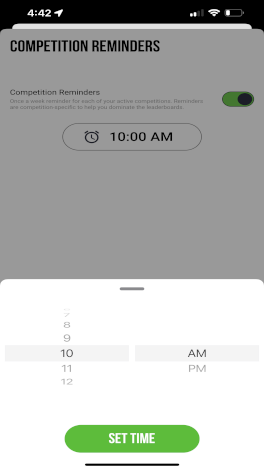 What Fitness Trackers does Strive support?
iPhone SE, 6, 6 Plus, 6s, 6s Plus, 7, 7 Plus, 8, 8 Plus, X, XR, XS Max, XS, 11, 11 Pro Max, 11 Pro, 12, 12 Mini, 12 Pro Max, 12 Pro, 13 Mini, 13, 13 Pro Max, and 13 Pro
Apple Watch Series 3, 4, 5, 6, SE, and 7
Garmin Connect Smart Watches
Polar Flow Smart Watches
Huawei Health Smart Watches
Samsung Health (not Galaxy Watch 4) Smart Watches
Withings Health Mate Smart Watches
Whoop Smart Watches
Amazfit Smart Watches
What kind of Group Challenges does Strive offer?
Number of Steps - Race against your fellow competitors to see who can reach the most number of steps by the end.
Weight Loss Percentage - Weight Loss Competition to see who can lose the most weight relative to their original starting weight by percentage.
Body Fat Percentage - Body Fat Loss Competition to see who can lose the most body fat percentage relative to their original body fat percentage.
Move Calories - Race against your fellow competitors to see who can reach the most move calories by the end.
Distance in Miles - Race against your fellow competitors to see who can reach the most amount of miles by the end.
Exercise Minutes - Race against your fellow competitors to see who can reach the most amount of exercise minutes by the end.
BMI - BMI Loss Competition to see who can lose the most BMI percentage relative to their original BMI percentage.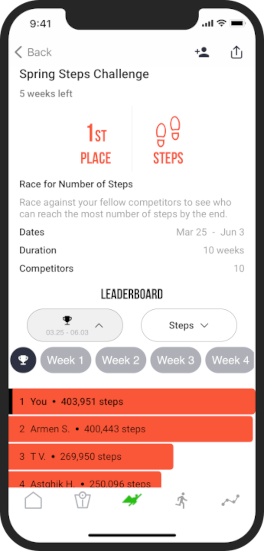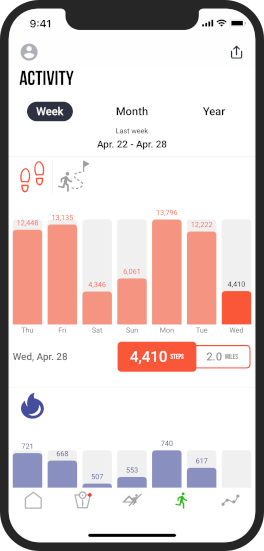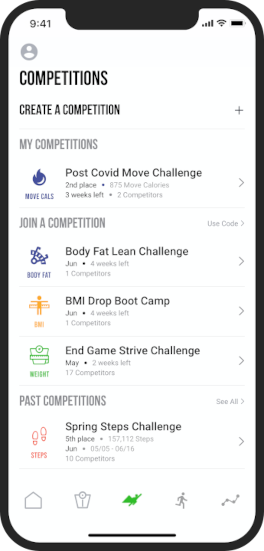 What features does the Strive Fitness App have that other apps don't?
Create/Join the Best Step Challenge App Tracker with Friends
Integrated with all Smart Watches including the Apple Watch to track your steps and workouts
Integrated with iPhone that automatically tracks your steps, Smart Watch not required
Track your Activity by Week, Month, and Year to monitor your progress
Interactive Leaderboard where you can filter by Steps, Miles, Move Calories, and Exercise Minutes(some metrics require Apple/Smart Watch)
Push Notifications to show where you rank on the Leaderboard
Look at Competitor Data