Best Weight Loss Competition App with Friends
Weight Loss Competition
The Strive Fitness App allows you to create or join a Weight Loss Competition with friends, family, coworkers, and couples. You can weigh in with a Smart Scale or manually, track your weight loss and view the digital Leaderboard to see where you rank as far as your weight loss percentage is concerned. Losing weight together with a Group Weight Loss Competition Tracker is powerful because it keeps everyone motivated and accountable for staying on track with their health and fitness goals. Choosing a Weight Loss Competition Near Me such as your own personal iPhone where you can compete with people all over the world or create a competition with your close family and friends near you. Please download Strive, the Best Group Weight Loss Competition App on the AppStore.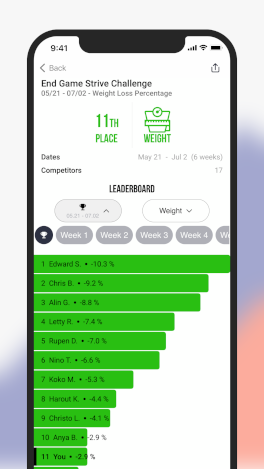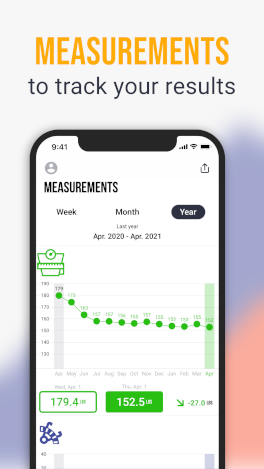 Weight Loss Competition App
With the Strive App, you can use your Smart Watch to track your workouts and compete with others to lose weight in a competition format. The Best Weight Loss Competition App allows you to see your workout data in charts and graphs by week, month, and year. The Best App for Weight Loss Competition provides a data rich dynamic Leaderboard that shows steps, miles, move calories, exercise minutes, weight, body fat percentage, and bmi. You can create your own Weight Loss Competitions with your own close friends and family and choose a start date and a duration ranging from 1 week to 10 weeks.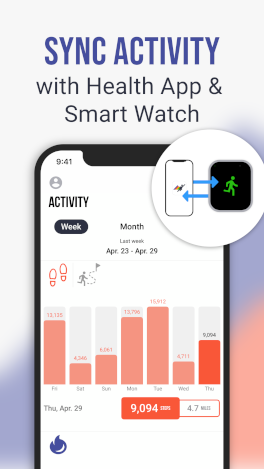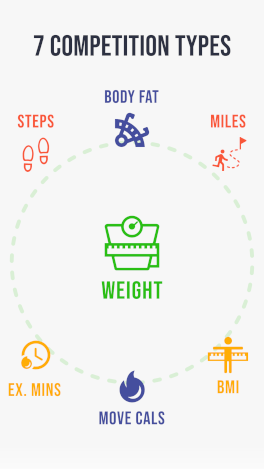 Strive Compatible devices that integrate with Apple Health
iPhone SE, 6, 6 Plus, 6s, 6s Plus, 7, 7 Plus, 8, 8 Plus, X, XR, XS Max, XS, 11, 11 Pro Max, 11 Pro, 12, 12 Mini, 12 Pro Max, 12 Pro, 13 Mini, 13, 13 Pro Max, and 13 Pro
Apple Watch Series 3, 4, 5, 6, SE, and 7
Garmin Connect Smart Watches
Polar Flow Smart Watches
Huawei Health Smart Watches
Samsung Health (not Galaxy Watch 4) Smart Watches
Withings Health Mate Smart Watches
Whoop Smart Watches
Amazfit Smart Watches
Weight Loss Competition With Friends
Strive offers a Weight Loss Competition With Friends to see who can lose the most weight relative to their original starting weight by percentage. We have built an Online Weight Loss Competition health and fitness tool that tracks multiple activity and body metrics. Utilize our charts and graphs and see what the Strive App for Weight Loss Competition can do to reach your goal weight. Combine that with a competitive spirit with friends, family, and coworkers that share similar health and fitness goals and start a challenge today!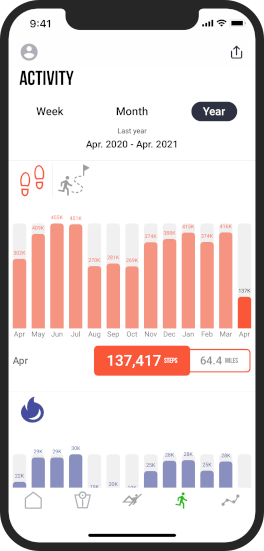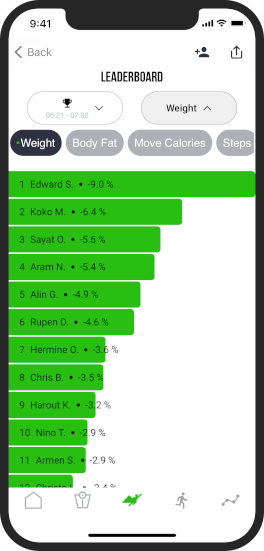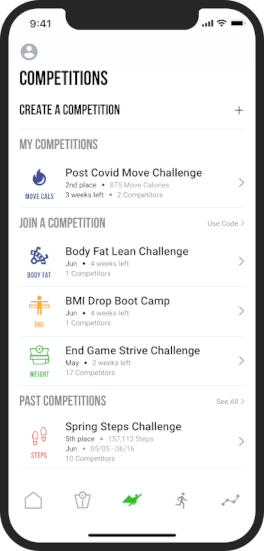 Features:
Create/Join the Best Weight Loss Competition App with Friends and Family
Weigh In with Smart Scale & Health App Integration on iPhone
Weigh In manually if you don't have a Smart Scale
Weigh In Configurable Reminders
Track your Body Measurements by Week, Month, and Year
Interactive Leaderboard where you can filter by Weight, Body Fat %, and BMI
Track your Activity by Week, Month, and Year
Interactive Leaderboard where you can filter by Steps, Miles, Move Calories, and Exercise Minutes(some metrics require Apple/Smart Watch)
Push Notifications to show where you rank on the leaderboard
Look at Competitor Data