Best Weight Loss Competition App with Friends
Weight Loss Competition
The Strive Fitness App allows you to create or join a Weight Loss Competition with friends, family, coworkers, and couples. You can weigh in with a Smart Scale or manually, track your weight loss and view the digital Leaderboard to see where you rank as far as your weight loss percentage is concerned. Losing weight together with a Group Weight Loss Competition Tracker is powerful because it keeps everyone motivated and accountable for staying on track with their health and fitness goals. Choosing a Weight Loss Competition Near Me such as your own personal iPhone where you can compete with people all over the world or create a competition with your close family and friends near you. Please download Strive, the Best Group Weight Loss Competition App on the AppStore.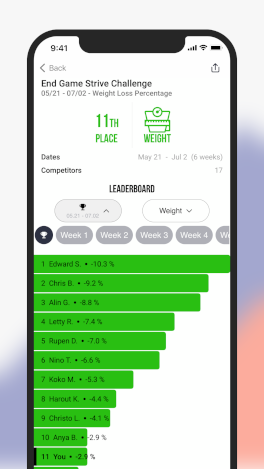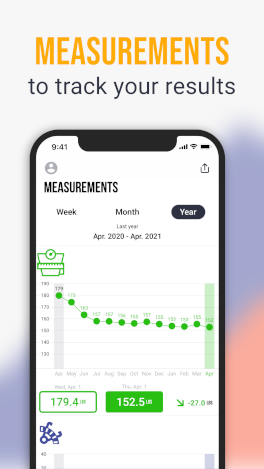 Weight Loss Competition App
With the Strive App, you can use your Smart Watch to track your workouts and compete with others to lose weight in a competition format. The Best Weight Loss Competition App allows you to see your workout data in charts and graphs by week, month, and year. The Best App for Weight Loss Competition provides a data rich dynamic Leaderboard that shows steps, miles, move calories, exercise minutes, weight, body fat percentage, and bmi. You can create your own Weight Loss Competitions with your own close friends and family and choose a start date and a duration ranging from 1 week to 10 weeks.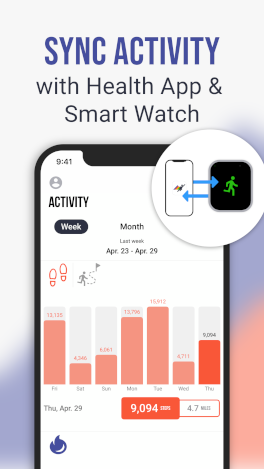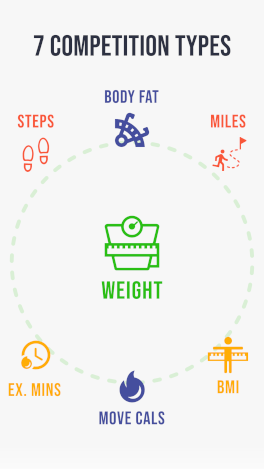 Best Weight Loss Accountability App With Friends
Looking to lose weight and keep it off? It is not always easy and convenient to hold oneself accountable for eating healthy and working out on a regular basis. There's an app for that! Strive, the best fitness tracker app, will work as your best partner and make you accountable for practicing more and more workouts and enjoying a healthy diet in order to get the desired body shape and weight.
Weight Loss Accountable App
The best fitness tracking app takes your goals into consideration and makes you more inclined to hold yourself accountable for a healthy and fit body. The app's weigh-in reminders will remind you that this is weigh-in time, and with collected data, you can ensure that you are moving in the right direction. With the regular use of the best weight loss app, Strive, your body will become flexible, strong and robust. You will experience more enjoyment with a wider range of competitions.
Make Your Fitness Great With Strive
Strive will keep you remaining on the right track, shedding a few pounds and remaining active. This app intends to make you accountable for achieving your set goal with an extremely simple and effective user-friendly interface. Strive is an app that helps you track your progress and make sure you are reaching your fitness goals. It allows users to connect with other users who are also working towards their fitness goals. This helps to create a community of support and encouragement.
Rest A While And Run A Mile
Strive, being the true fitness tracker app, is coupled with a bunch of competition and features. You will find this app easy to use and compare your workout and physical activity with your friends and colleagues. The reminder system of the weight loss app helps you not miss any of the workout sessions and remain committed to yourself. The step challenge will also help you in creating competition and see who wins the challenge with more steps covered. There is also an option to see the results on the basis of Aggregate view or Specific Week View. You will get a competitive spirit by looking at other data available on the leaderboard.
Strive Compatible devices that integrate with Apple Health
iPhone SE, 6, 6 Plus, 6s, 6s Plus, 7, 7 Plus, 8, 8 Plus, X, XR, XS Max, XS, 11, 11 Pro Max, 11 Pro, 12, 12 Mini, 12 Pro Max, 12 Pro, 13 Mini, 13, 13 Pro Max, and 13 Pro
Apple Watch Series 3, 4, 5, 6, SE, and 7
Garmin Connect Smart Watches
Polar Flow Smart Watches
Huawei Health Smart Watches
Samsung Health (not Galaxy Watch 4) Smart Watches
Withings Health Mate Smart Watches
Whoop Smart Watches
Amazfit Smart Watches
Strive App- The Best App to Keep You Accountable & Motivated
Strive acts as a tool to achieve your fitness goals in an exciting and interesting manner. With some weight loss challenges of Strive, you can also notice the number of days in which you are achieving your goal. This app helps you choose your fitness group by sending invitations to them and competing with them to achieve the goal. The result will appear on the leaderboard. However, whatever the result, you will benefit from that because, ultimately, you are working out, and you will experience some positive transformation in your body. We all know numbers give strength, and when you have your fitness buddies in your weight loss journey, then it will automatically bring motivation and accountability.
Weight Loss Competition With Friends
Strive offers a Weight Loss Competition With Friends to see who can lose the most weight relative to their original starting weight by percentage. We have built an Online Weight Loss Competition health and fitness tool that tracks multiple activity and body metrics. Utilize our charts and graphs and see what the Strive App for Weight Loss Competition can do to reach your goal weight. Combine that with a competitive spirit with friends, family, and coworkers that share similar health and fitness goals and start a challenge today!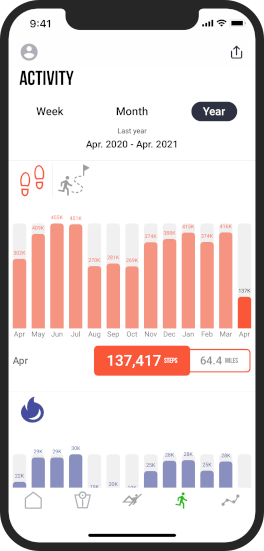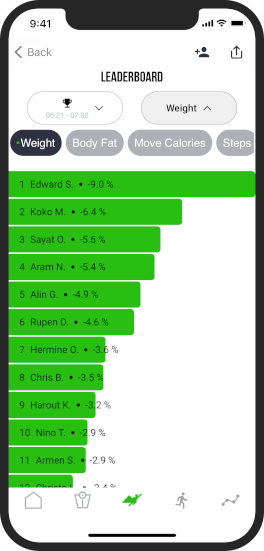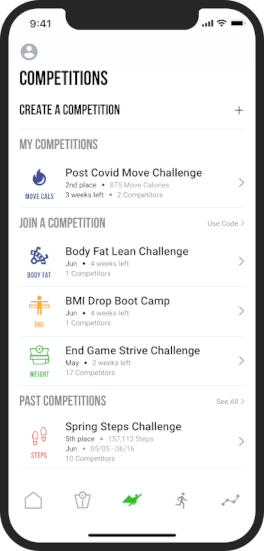 Best Team Weight Loss Challenge App
Do you want to lose weight with friends, colleagues or family members? If so, check out the team weight loss challenge offered by Strive! This app has lots of challenges that are designed for groups of two or more people and track multiple activities and body metrics. The team weight loss challenge is a great way to get started on your weight loss journey. There are also leaderboard rankings, and you can track your progress and share your achievements with others on the team.
Win Weight Loss Game With Friends
The team weight loss challenges of Strive are a great way to encourage everyone to lose weight together. Strive makes your weight loss journey exciting and interesting. This best team weight loss challenge app comes with amazing features such as a move calorie counter, body fat percentage, distance covered in miles, and step counter. Strive is a fun way to stay active and healthy!
Best Team Weight Loss Challenge App With Friends
Do you want to keep track of your physical activity with friends? If so, you'll love the best step challenge app tracker, Strive. Our team weight loss challenge app is perfect for people who want to lose weight together. You can also create challenges with your friends and see who can score the most points by reaching their goals. The app also has a leaderboard that lets users see what their competitors are doing and what are your achievements. It's a fun way to stay active and healthy!
Best Fitness Trainer In Your Pocket
Are you looking for an app to help you keep track of your physical activity? If so, Strive, the best step challenge app tracker may be the perfect option for you! This app allows you to track your progress in walking and running, as well as tracking your partner's progress. The app has a variety of weight loss challenges that users can choose from.
Strive- Best Team Weight Loss Challenge app
Check out the team weight loss challenge if you're looking to shed some pounds. This challenge is based around working as a team and sharing the burden of weight loss. You can join as a single participant and can also send the invitation to your friends, family members and office colleagues. The app is simple to use and easy to follow, so you'll be sure to see results in your desired time. So don't wait any longer – download the best team weight loss challenge app today!
Features:
Create/Join the Best Weight Loss Competition App with Friends and Family
Weigh In with Smart Scale & Health App Integration on iPhone
Weigh In manually if you don't have a Smart Scale
Weigh In Configurable Reminders
Track your Body Measurements by Week, Month, and Year
Interactive Leaderboard where you can filter by Weight, Body Fat %, and BMI
Track your Activity by Week, Month, and Year
Interactive Leaderboard where you can filter by Steps, Miles, Move Calories, and Exercise Minutes(some metrics require Apple/Smart Watch)
Push Notifications to show where you rank on the leaderboard
Look at Competitor Data